On November 15-19, the annual Human Proteome Organization (HUPO) congress took place.  This  event has the goal to showcase, promote and foster the development of new technologies in the field of proteomics.
Proteomics is the study of all proteins in an organism or cell. Proteomics typically uses mass spectrometry to profile proteins in a high-throughput manner, allowing the detection and quantification of thousands of proteins from complex samples. This is revolutionizing the way we study biology and approach precision medicine.
This year's HUPO congress had the theme "Reconnect". Albeit taking place still in an online form, Gather town provided a Zelda-like virtual platform for attendees to have an engaging experience. Using an avatar, one could move around to see live presentations or to interact with other attendees (see pictures).
HUPO Reconnect had a comprehensive program which included renowned speakers covering various plasma proteomics, multi-omics data integration, the role of proteomics in the pandemic amongst other topics.
Altogether, it was an inspiring event full of innovative  ideas. Without a doubt proteomics will also play a fundamental role in understanding interpatient variability in bleeding disorders and in aiding healthcare allocate the best available treatment to the right patient.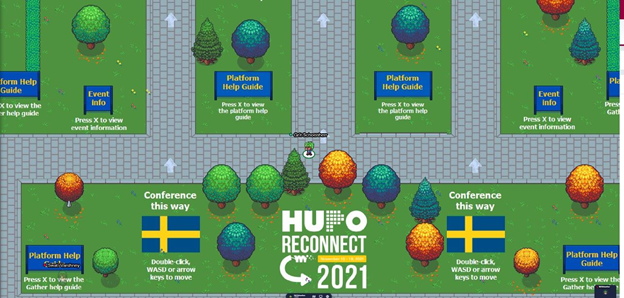 Jessica Del Castillo Alferez, PhD WP10